The next time you see a Victoria's Secret model and wish you could look like her, remember this. That girl is starving herself. The pre-show diet of one of the models is so extreme, it made Anderson Cooper's Ridiculist: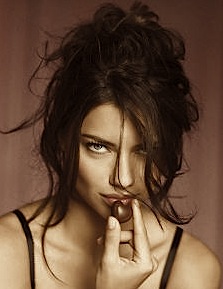 Here are the details of Adriana Lima's diet before the Victoria's Secret Show, which she revealed in her Telegraph interview:
"It is really intense, it's not really the amount of time you spend working out, it's the intensity: I jump rope, I do boxing, I lift weights, but I get bored doing that. If I am not moving I get bored very easily."

She sees a nutritionist, who has measured her body's muscle mass, fat ratio and levels of water retention. He prescribes protein shakes, vitamins and supplements to keep Lima's energy levels up during this training period. Lima drinks a gallon of water a day. For nine days before the show, she will drink only protein shakes – "no solids". The concoctions include powdered egg. Two days before the show, she will abstain from the daily gallon of water, and "just drink normally". Then, 12 hours before the show, she will stop drinking entirely.

"No liquids at all so you dry out, sometimes you can lose up to eight pounds just from that," she says.
What you see on stage (and in commercials and magazines) aren't healthy women. They are women who have been starving themselves for DAYS before the show (or shoot). They are hungry and dehydrated and should NOT be emulated.

-