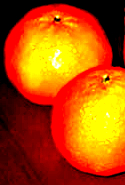 If you think orange juice is a healthy way to get vitamin C, think again. According to Civil Eats, here is The Truth About Orange Juice in Boxes. Not from concentrate juice is held in huge vats for over a year. To keep it from spoiling, they remove the oxygen from the juice.
When the juice is stripped of oxygen it is also stripped of flavor providing chemicals. Juice companies therefore hire flavor and fragrance companies, the same ones that formulate perfumes for Dior and Calvin Klein, to engineer flavor packs to add back to the juice to make it taste fresh. Flavor packs aren't listed as an ingredient on the label because technically they are derived from orange essence and oil.
Rather than drink a glass of franken-food, how about just eating an orange. Sure, they're hard to peel and the spray juice all over your fingers, but you get the added benefit of fiber from the orange, plus the REAL flavor of an orange.
Via The Flavor Of Your OJ Is A Chemically-Induced Mirage – The Consumerist
Previous: Weight Watchers Soda from 1976
Next: Running on Grass Path Just As Injury-Prone As Asphalt

Leave a Reply
-