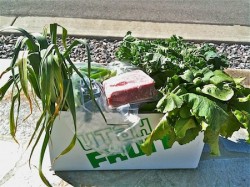 Yesterday, Mike and I got our first weekly delivery of veggies from Petersen Family Farms. We signed up for their farm cooperative in January, so we have been eagerly awaiting veggies from them for months. After such a cold winter and spring, they are just now harvesting some for us.
Having a weekly shipment of veggies brought to us lets us try new things and urges us to eat more vegetables. You'd think that going to the grocery store and buying a couple heads of fresh lettuce and beet greens would be incentive enough, but when we picked up this box of produce, it was different. We met the guy who grew them, so it made me want to eat them instead of letting them go to waste.
If you have been having trouble getting more veggies into your diet, try visiting a local farm, farmer's market or signing up for a farm coop. It won't provide you with fresh veggies all year long, but during these glorious months of summer, you'll have great tasting veggies.
Previous: Why I Left Weight Watchers
Next: It's Fun to Bowl! All The Cool Kids Are Doing It!

Leave a Reply
-