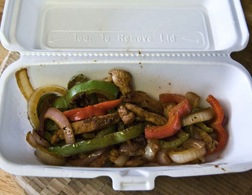 A LONG time ago (back in 2005), I wrote an entry about Margaret Cho's "F**K It" Diet. She lost weight by having the audacity of throwing away food. I was so inspired by her willingness to let food go to waste at restaurants without bothering to take the food home in a doggie bag.
Unfortunately, most of the people who read that post skewered her for being wasteful. From comments calling the idea "pathetically privileged" to others screaming for take home boxes, it enraged almost everyone.
This comment from echo begs to differ, however:
For all of you out there who are worried about the waste of food in restaurants let me tell something that may ease your minds (and may gross you out as well). I have worked in restaurants of all sorts, including 5 star and I can guarantee you that Margaret's leftover prime rib is not going to waste. Whenever a large portion of an entree or app. comes back to the kitchen the bus/wait/dish staff will devour it like a pack of hungry jackals. I've seen fights break out over who gets first dibs on leftover steak au poivre. So rest easy people, it's all good!
The next time you're at a restaurant and you know you will be tempted to eat more than you should if you take the leftovers home, remember echo's comment. Your food won't go to waste. It will be gobbled up in the back of the restaurant.
Previous: A Special Thank You To Lindsay Lohan
Next: Everyone Makes Mistakes

2 Responses to "Don't Worry About Wasting Food At Restaurants"
Rachmawaty Says:
March 4th, 2011 at 12:38 pm

what>> its so dirty….. HIIIIIIIIIIIIIIIIiiiiiiiiiiii

Laurel Says:
March 29th, 2011 at 8:45 pm

Hello,

I am a college student in a High Level Welness Class looking for blogs to inspire and guide me in reaching my fitness goals. I just wanted to say I loved this article. It really spoke to me. I'm te type to go to a restaraunt and completely overeat because I was taught not to waste. I don't feel so bad leaving large amounts of food anymore especially after the comment about the leftovers not going to waste. I can't say that I would do the same in the place of the restaraunt workes but it's a good way to put my mind at ease. I feel so much better when I don't overeat to the point that it's hard to move.
Leave a Reply
-