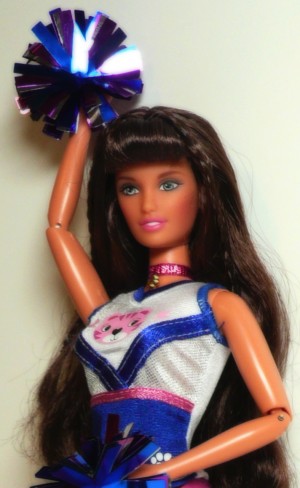 Whenever I get back on track, I tell everyone that I know that I am back to eating healthy and that I need a little encouragement. All the people who love me are really good at cheering me on, but there is something about getting that feedback that backfires on me. After every compliment and every positive remark, I lose steam. I don't know what it is about having a cheerleader that makes me slack off, but I've definitely noticed a pattern.
This time, I've kept my mouth shut.
I've been working on the simplest of things: tracking my food every day, staying within my caloric restrictions and following five out of my seven healthy habits every day. If I do all three, I get another day added to my "food sobriety." I've been food sober for over ten days now, but I haven't really talked about it with anyone. Having a family of cheerleaders isn't nearly as helpful for me as being my own cheerleader.
If you have noticed that every time you tell someone about your eating plan, you blow it, then try NOT telling anyone anything. Maybe you'll see more success if you be your own cheerleader.
Previous: Let's Move Campaign
Next: Keep Your Goals To Yourself

One Response to "Be Your Own Cheerleader"
kyle bottger Says:
October 25th, 2010 at 7:50 am

I agree with you on this post. It makes me feel good when someone else encourages me when I am doing something, but in the end it always effects me negatively because I then feel like I have reached success and I tend to slack off from there. I know people mean well by encouraging me and cheering me on in whatever it is I may be doing, but sometimes part of me wishes they wouldn't. It's not because I don't appreciate the encouragement, it is just hard for me to stick to something once someone starts to cheer me on. Also, I always tell people my diet plans and I never stick to them. After reading this, I am just going to keep them to myself and see what happens.
Leave a Reply
-