Victoria Beckham is fantastically thin. At thirty-six years old, she still rocks the fashions in the smallest of sizes. She is so incredibly thin that you might think that she never steps foot in a fast food restaurant for fear of fat clinging to her body through osmosis. I imagine her eating regime to be something akin to air, mugs of hot water and lemon juice.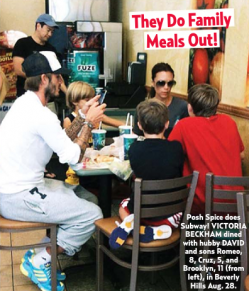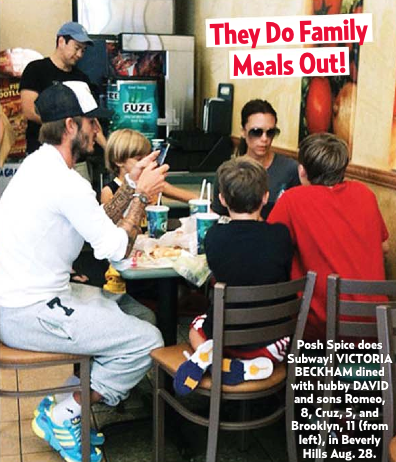 That's why it was so surprising to me to see her at Subway with her family. The photo doesn't actually show her EATING, but she and David are there enjoying family time at the local sandwich shop. If she DID eat, I would love to know what she ate. Was it the veggie sandwich? Did she skip the huge bun? Was it a salad with only vinegar? Inquiring minds want to know.
I know from experience that it's possible to eat out every day and still lose weight. There is a healthy option at almost EVERY fast food restaurant in the U.S. if you're willing to ORDER it. The biggest problem is the tempting food at restaurants can override your best intentions. You need will of steel to order the salad at your favorite restaurant instead of the super fatty burger and shake.
The next time you're at a restaurant and you're tempted to order food that doesn't fit into your program, remember Victoria Beckham and how she keeps her slender figure, even though she goes to fast food restaurants just like you.
Previous: Skechers Resistance Runner: Where's The Research Data?
Next: Dr Bouchard's Flesh Reducing Soap from 1926

Leave a Reply
-