This postcard from PostSecret made me feel sad.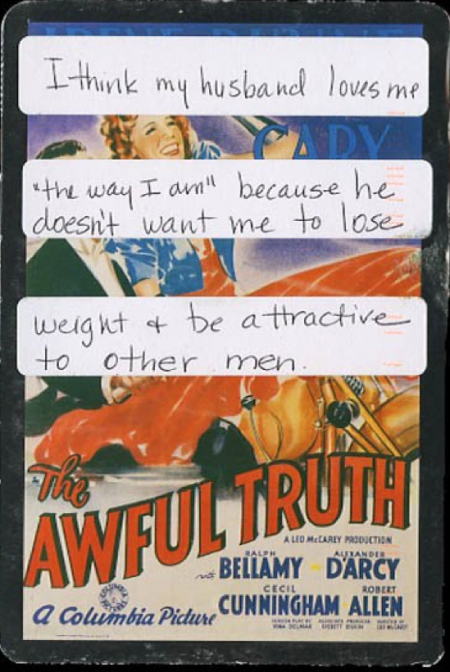 It reads:
I think my husband loves me "the way I am" because he doesn't want me to lose weight & be attractive to other men.
This thought is very dangerous. It doesn't matter whether your spouse wants you to stay fat or not. Thinking that your loved one doesn't want you to be attractive is a very defeating idea. It gives you an excuse to live an unhealthy lifestyle. It makes you fearful of getting stronger because you might hurt your partner's feelings.
Even worse, it makes you scared of being all you can be. The idea that the opposite sex will suddenly start to find you interesting when you get to a healthy weight is scary if you aren't equipped to fend off advances. In all honesty, people can tell when you don't want them to hit on you.
If this secret hit home with you, let's make a deal. You start eating healthy and exercising regularly. When you get to your goal weight, make sure you give the "don't even try it" vibe. If the opposite sex still makes passes at you, then here are some resources you can use to protect yourself:
Don't let your worries about social awkwardness get in the way of your health. You owe it to yourself to live a healthy lifestyle. Move past this fear and you will feel stronger physically AND emotionally.
---
PostSecret's beneficiary is the National Hopeline Network. It is a 24-hour hotline (1 (800) SUICIDE) for anyone who is thinking about suicide or knows someone who is considering it.
Previous: Don't Feed The Stars?!
Next: Skechers Resistance Runner: Where's The Research Data?

Leave a Reply
-