I was looking through my old Seventeen magazines from the 80's and I found this article in the November 1987 issue about Aerobikata. Actress, Christine Harnos, demonstrates the cool new workout craze from New York that was supposed to be a mixture of aerobics and karate.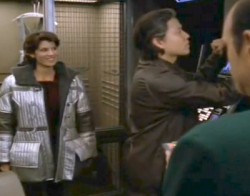 Christine Harnos was best known for her part playing Jennifer Greene, the wife of Mark Greene on ER. The only thing I've seen her in was a guest spot on Star Trek: Voyager. It's good to know that she went on to bigger and better things than Aerobikata.
The "workout craze" however doesn't seem to exist on the Internet. Far from Japanese, the word aerobikata is Finnish and simply means "to do aerobics."
As non-existent as the craze may have been, the moves shown in the magazine are pretty interesting and will probably get your heart rate going if you give them a try.
I especially like number 11. It's the perfect depiction of a hamstring/calf stretch as you'll ever see. Keep your back straight and you should feel the stretch in your straightened leg.
Whenever I read the fitness magazines of today, I'm reminded of articles like these from twenty years ago. Sure, it might look like the new fitness craze now, but in twenty years, it'll be as silly as Aerobikata is today.
Previous: Ten Ways Walking Can Land You In Jail
Next: Kudos to Seventeen Magazine: Body Peace Treaty

Leave a Reply
-