Every time I get out of the habit of eating healthy and exercising, I go back to the basics. I make a list of all the things I want to accomplish every day and give myself a star each time I do it. Seeing the stars pile up is really motivating to me and helps me get back into healthy living. Inside, I'm just a little eight year old girl who desperately wants approval. Aren't we all?
This time, I'm using Touch Goal [iTunes Link] on my iPhone to keep track of my good habits.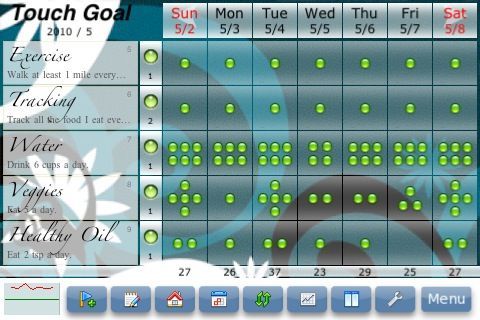 It's a HORRIBLE clunky, program that is barely usable, so I'm not recommending it, but it DOES give me that satisfaction of seeing those virtual stars for each habit that I am working toward.
The awkward interface of Touch Goal isn't my problem. Even keeping my goals isn't a problem. The problem that I have is that I KNOW that in two months, when everything feels natural and I think I've assimilated my new habits into my life, I'll stop giving myself stars (or in the case of Touch Goal, little green dots).
I'll continue with my good habits for about a month and then something will happen. Maybe I'll go out of town. Maybe I'll get really sick. Maybe I'll injure myself and can't run anymore. Whatever happens isn't the cause, but the effect will be that I will totally lose my good habits and I'll have to start all over again after a weight gain, negating everything that I achieved while developing my new habits.
This isn't a self-fulfilling prophecy. This is a cycle that I have noticed in myself over the last few years and I don't know how to break it. I've had good habits for two weeks now, so I only have about six weeks before I stop giving myself kudos for keeping up with my good habits.
This really seems like a no-brainer. "Duh, Laura! Don't stop giving yourself stars!"
Yeah, I thought of that one, thank you. Keeping up with the stars is easy enough to do, but somehow it falls by the wayside.
Maybe I need to make of habit of praising myself for a job well done…
Previous: Twitter Weekly Updates for 2010-05-11
Next: Get Strong

Leave a Reply
-