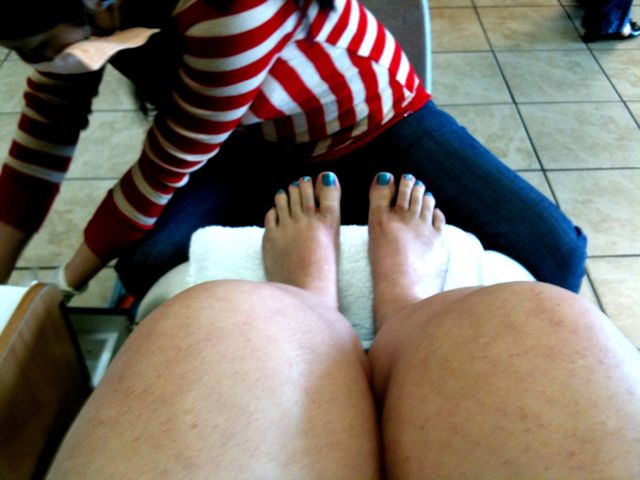 You might think that getting a pedicure or massage has nothing to do with losing weight, but I've been shocked to realize that they do. I went to my favorite nail shop today to get a pedicure and I was surprised by how good it made me feel.
I use food to make myself feel better. I know I'm not alone in this. Not everyone who is overweight uses food to pamper themselves, but an awful lot of us do. When I'm eating healthy, I don't get that nurturing effect from carrot sticks and hummus as I do from potato chips and sour cream.
Pampering myself with a pedicure gives me the same relaxation and comfort as eating an entire box of cookies, but what works for me might not work for you. You need to ask yourself what makes you feel nurtured and pampered.
What do you avoid doing because it costs too much money? I always think that pedicures cost too much, but the truth of the matter is that they cost less than a binge at a fast food restaurant. If getting a new coat of polish on my toenails prevents me from eating us out of house and home, it's totally worth it.
The next time you're tempted to binge, try something different that will make you feel pampered. You might just find that food doesn't work nearly as well as the other options available to you.
Previous: Twitter Weekly Updates for 2010-04-13
Next: I Ran The SLC 5K Yesterday

2 Responses to "Pampering"
Clearly Composed Says:
April 18th, 2010 at 7:46 am

I so agree that little treats make such a big difference. Nurturing ourselves is one of the greatest gifts we can give to our lives. Nice post. 🙂

H. Raven Rose Says:
April 18th, 2010 at 10:28 pm

This is a beautiful post, thank you for sharing. I have learned the exact same thing myself. A pedicure is inexpensive, compared to the damage to my well-being that sugary inflammatory and wellness-sabotaging junk foods can do. It is an amazing process to switch from food reward to girlie self-care reward, whether that is a glossy magazine or some lacy underthings. Yaye~* for you, and me and every other person on this journey.
Leave a Reply
-