Mike and I were arguing about our daily workout.
"It's cold outside."
"Yeah. That wind is WAY too cold for a bike ride."
"I guess I'll walk on the treadmill tonight."
"No, let's just go outside for a quick walk."
After much complaining, I got him to put on his coat and brave the icy wind and dandruffy snow for a walk by the lake.
"It's bloody cold."
"Yeah, but it's pretty."
We found ourselves in the lee of a hill, so the wind abated, but the sun tucked itself behind the clouds, keeping it cold. I pointed at the sky in awe.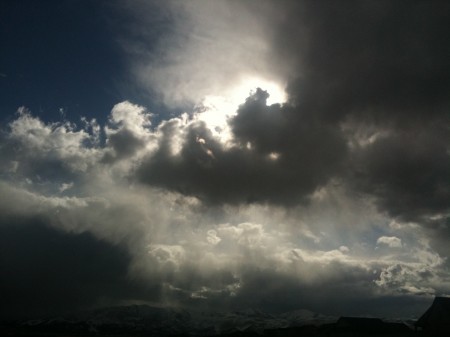 "If we didn't go for this walk, we wouldn't be able to see that."
"Yeah, I guess sometimes exercise is worth it."
Previous: Diets Like Like Soda
Next: Travel Exercise

One Response to "Sometimes Exercise Is Worth It"
Rachel Says:
April 8th, 2010 at 11:18 am

Hi, i just found your site and Im looking it over and I like it. I have been on WW's since 2008 lost 30lbs. Slow but surely Im getting there. I just read about the cold today and I got up at my regular time and thought to myself brrrr its cold but I went for my walk too!!!
Leave a Reply
-