Fitness Magazine provided me with a complimentary subscription in exchange for a monthly review of their magazine.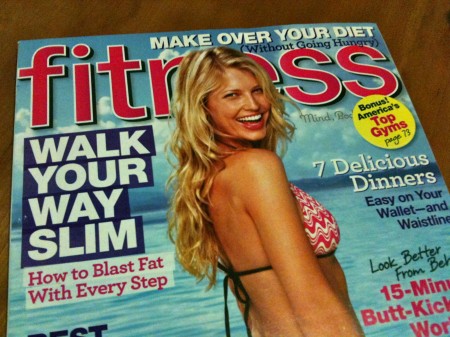 Once again the cover of the magazine seems incredibly inappropriate for the current weather. This is what it looked like outside my house the first day of April. Do they really expect you to "Walk Your Way Slim" in a bikini when the weather is like this?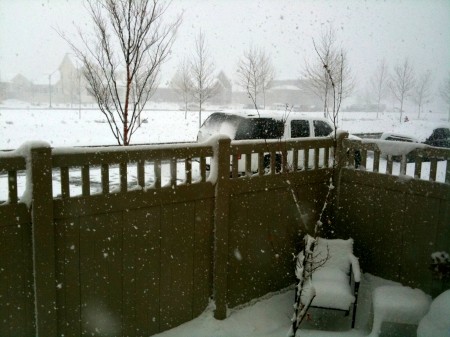 That bikini is a FAR cry from the exercise clothing I wore this morning on my run. I find it strange that Fitness Magazine is perpetually in a state of sunshine and summer when the majority of their readership is still suffering with snow storms and icy wind pushing against them on their morning runs. It's as if they aren't connected to the earth the way the rest of us are.
They did have one good article about eating healthy when you're eating out called "Fast Food Lite?"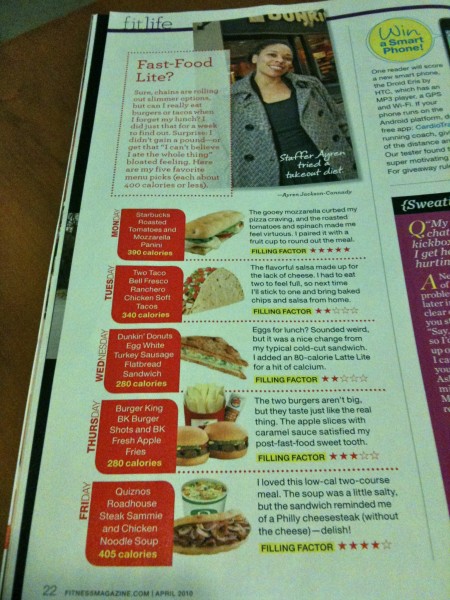 Aryen Jackson-Cannady, a Fitness Magazine writer, tried eating out every day at lunch and she found a great selection of healthy things to eat. It IS possible to lose weight and eat out every day as long as you choose wisely. I love that they were willing to admit that amid this war on fast food.
I also liked Caroline Hwang's Fit Test article about the TrekDesk, which is a big desk that fits around your treadmill and allows you to work while you exercise.
This month's FitnessFix was about a woman who LOVED spinning class, but was afraid to get on a real bike. It is the best article in the magazine this month, highlighting that you should get a bike that fits you. I can't stress how important this is. My bike is a 13 inch frame, which is usually a size for kids, but it is the only bike that has fit me. No matter what you need, make sure you get a bike that fits your body.
This month's Fitness Magazine is definitely worth the money. Pick up a copy and tell me what you think!
Previous: Twitter Weekly Updates for 2010-04-06
Next: Diets Like Like Soda

Leave a Reply
-