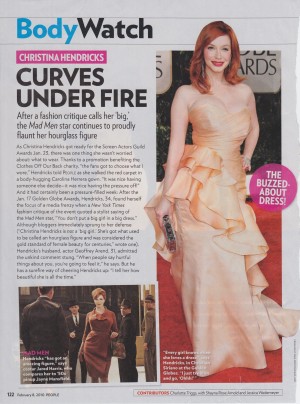 Shame on The New York Times for saying that Christina Hendricks is anything but the totally hot babe that she is. For their review of the red carpet for the Golden Globe Awards, their fashion critic wrote, "You don't put a big girl in a big dress." Apparently, only size zero is good enough for The New York Times.
Christina Hendricks is one of the stars of Mad Men and her curvy beauty makes all the men's heads turn. What the frak could that fashion critic for the New York Times have been thinking?!! Just look at her give Betty the low down on the office here:
I first saw Christina Hendricks in the excellent science fiction series, Firefly, over eight years ago. She played the evil genius, Saffron, who nearly wiped out the brave crew of Firefly and almost outwitted Captain Malcolm Reynolds.
You can see her in her evil and busty glory here:
The next time a comment from someone makes you feel like your body doesn't quite measure up, remember the idiotic fashion critic at The New York Times. There are always imbeciles out there whose sole goal in life is to bring other people down. Don't let them decide how you feel about your body. Walk with the grace and swagger of Christina Hendricks and keep your head high.
Previous: Twitter Weekly Updates for 2010-02-16
Next: Dealing With Sweat

Leave a Reply
-