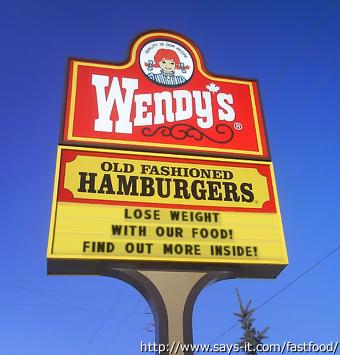 If I find myself at Wendy's, it's so easy to eat healthy. There are SEVERAL meals that I can have that are low in calories and yummy. Here are my favorite selections:
Small Chili and a Side Salad: This is my absolute favorite meal to have at Wendy's. For about 4 WW Points, I can have a full tummy and feel satisfied. Instead of using dressing on the side salad, I pour the small chili on it and it feels like a decadent salad.

Kid's Meal Hamburger, Fries and Tiny Frosty: This is substantially more calories with my estimate at 11 WW Points, but if I'm craving a classic hamburger, I get the taste of it without all the calories. For the same amount of Points as their Baconator, I can have a whole meal. Plus I get a toy!

Plain Baked Potato with Light Classic Ranch Dressing: When I'm feeling like something different, I choose the plain baked potato and add the Light Classic Ranch Dressing for about 7 WW Points. This isn't the best option for me because there isn't any protein, but sometimes I just really want a baked potato.

Grilled Chicken Go Wrap and a Side Salad: For 5 WW Points, you can't go wrong with their chicken wrap and a salad. I ask for lemon to squeeze on the salad and use that instead of dressing.
You can create your own diet meal by reviewing the nutrition information before you go to the restaurant.
In the end, you can lose weight by eating at any restaurant. You just need to know what to order and how much to eat. You don't need to cut any of your favorites out of your diet as long as you learn how to eat them correctly.
Previous: Everything You Know Is Wrong
Next: iPeriod for the iPhone

Leave a Reply
-