Hands down, the best exercise equipment store is the thrift store. In Utah, the best thrift store (or second-hand store) is Deseret Industries, or The DI for short. If you are looking for some exercise equipment, whether it's a treadmill, exercise bike, elliptical trainer or even an Ab-Doer, you will eventually find a GOOD one at the thrift store if you go there every week and really look.
Just last week, here is what I saw at the 4500 South DI: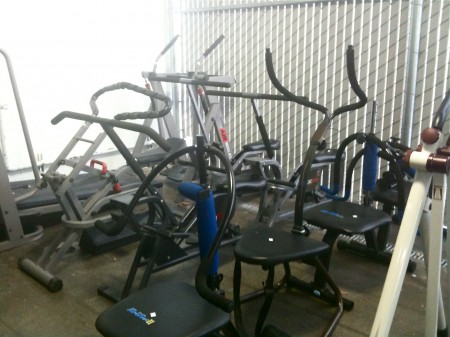 So many Ab-Doers and Cardio Glides that I had my pick of the litter. Of course, I wasn't looking for either of those, but if I had, it would have been perfect. Fortunately, I found exactly what I was looking for at the Redwood Road DI. I had wanted a recumbent exercise bike with magnetic resistance so that it would be quiet and I found it for only twenty five bucks.
I had seen a brand new version of this exact bike at Sears for over 250 dollars, so I saved over two hundred bucks just by biding my time and looking at every thrift store in town once a week for about a month. Sure, that's a pain in the butt to wait and meticulously look, but it was worth the money.
If you want some exercise equipment, here is how to get it on the cheap:
Go to the "real" sports stores and department stores to find out what you want. Use the demo units so you can know how they are supposed to feel when they are new. Determine the features that you are looking for. Also, check the prices to make sure that you aren't paying full price for a used item.

Make a list of the features you NEED, the features you'd LIKE and what you're willing to live with. For example, on the bike I bought, the seat and back were falling apart and had been taped together with black tape. I didn't care that the seat was damaged because what I wanted was magnetic resistance on a recumbent bike.

Make a list of all the thrift shops and second hand stores in your area. With my list, I was able to hit a bunch of them on my way home from downtown each week, so it wasn't difficult for me to look in so many stores.

Visit the shops about once a week, preferably on the day that they receive new merchandise. Some stores get deliveries of second hand items on a regular basis from a central donation center. Others put new items out each day. Find out the rhythms of each store.

In each store, go to the exercise equipment section and make a quick search. Don't get distracted by the other goodies you might see there. This is supposed to be a quick search.

Try out the equipment at the thrift store. If it's a treadmill, insist that they allow you to plug it in and see if it works. Try it at every intensity level that you plan on using it. Some equipment works fine at lower levels, but when you crank up the speed or incline, they conk out. Make sure you test it thoroughly before buying it, so wear your jogging bra and running shoes on your outings.

Make sure you can get it home. It's not a deal if you have to rent a truck to haul the thing home. Make sure it will fit in your car or that you have a friend with a pickup to help you get the equipment home.
Believe me, there were plenty of exercise bikes at the thrift stores, but I wanted a very specific kind, so it took me a while to get what I wanted. You'll have to do the same when you are looking for exercise equipment at thrift stores, but it will be worth it when you finally find it.
Previous: Twitter Weekly Updates for 2010-01-26
Next: Embrace Your Flawz

One Response to "The Best Exercise Equipment Store"
Braidwood Says:
January 28th, 2010 at 2:21 pm

Wow! What a great idea! I knew thrift stores were good for vases, baskets, and jeans, but I never thought about exercise equipment.
Leave a Reply
-