This week, on PostSecret, there were tons of postcards that I found interesting. Here is one of them.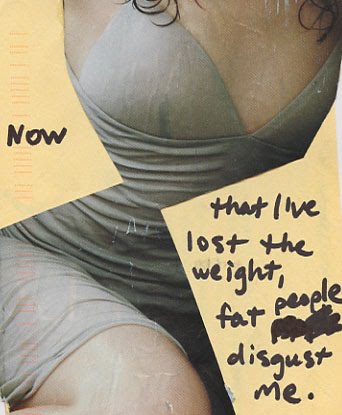 It reads:
Now that I've lost the weight, fat people disgust me.
This postcard just brings to light the stark reality of fat hatred. I've talked about this a couple of times before. The first time, I suggested that people don't really hate fat people. It's more complicated than that.
It didn't take too many comments to realize that I was totally wrong about that idea and that there are people out there who HATE the overweight.
There is nothing that we can do about other people's feelings about us. All we can control is our actions and our own feelings. Focus on yourself and let those fat haters stew in their own juices.
---
PostSecret's beneficiary is the National Hopeline Network. It is a 24-hour hotline (1 (800) SUICIDE) for anyone who is thinking about suicide or knows someone who is considering it.
Previous: PostSecret: Pumping Iron
Next: PostSecret: Orgasms at the Gym

4 Responses to "PostSecret: Fat People Disgust Me"
Leave a Reply
-