This old advertisement for Life Savers is an interesting snapshot of women and body issues.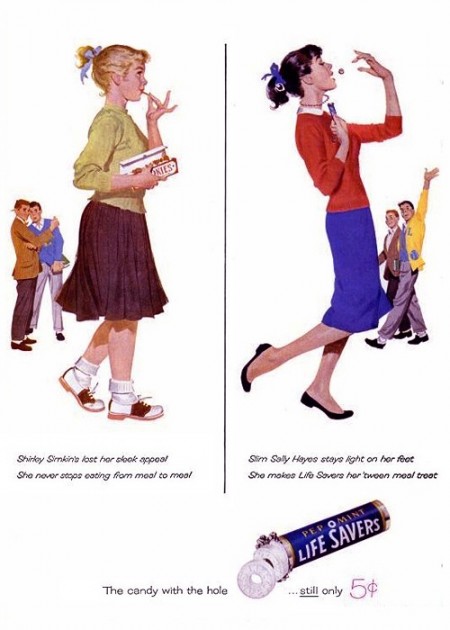 It reads:
Shirley Simkin's lost her sleek appeal.
She never stops eating from meal to meal.

Slim Sally Hayes stays light on her feet.
She makes Life Savers her 'tween meal treat.
Looking at the artwork for this ad, BOTH girls are gorgeous. The copy makes us compare the two, but the truth of the matter is, both girls are beautiful.
The comments on the Live Journal site make that clear:
Shirley surely is appealing to me. 😛

Shirley is cute as can be and Slim Sally looks like a major bitch.

It helps that Sally is 6'2 and has legs as long as Shirley's entire body.

Shirley Simkin is adorable. I wish I could constantly eat between meals and be shaped that way.
Even more interesting is this comment from nosyparker:
Interesting how they've put Shirley in muted earth tones and Sally in red, white and blue. Clearly Shirley is a COMMIE.
Eating cookies all day long isn't healthy, but neither is popping Life Savers all day long. Sure, hard candy has less calories than cookies, but they BOTH are unhealthy habits. The next time an advertisement makes you feel bad about your body, remember that they are trying to sell you something by lowering your self-esteem. Don't let them get inside your head.
Advert via: vintage_ads: Life Savers
Previous: Twitter Weekly Updates for 2009-11-24
Next: Living Close to Food Is Good for Your Waistline

Leave a Reply
-