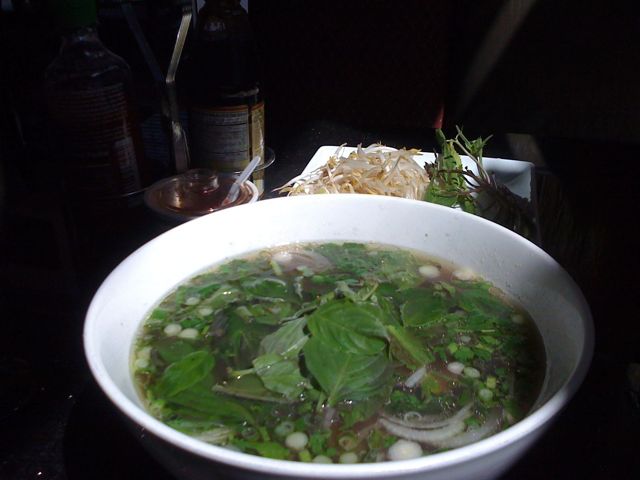 Pho Tai (pronounced fa tie) is a Vietnamese beef and noodle soup. It is usually an inexpensive meal that is also pretty healthy if you can find a restaurant that uses healthy oil.
When you order it, the first thing to arrive is a plate of veggies. It usually includes bean sprouts, cilantro, basil, limes and green chili peppers. When your bowl of soup arrives, you get to choose what to add to the soup. I am always eager to increase my vegetable intake, so I usually throw everything in (I go easy on the green chilies). I figure that the more veggies, the better. I do pull the leaves off the basil and cilantro stems before I add them to my soup because it makes it easier to eat. I squeeze in both limes. Sometimes I even drop in the limes after squeezing in the juice to add a little more citrus flavor.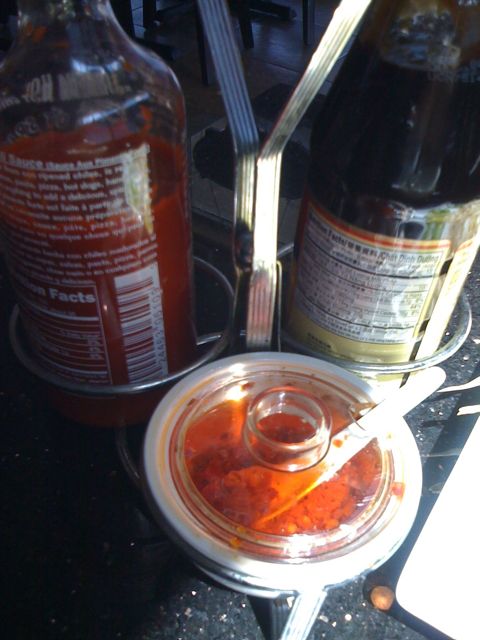 The wait staff should also bring in a small tray of spicy sauces as well (or maybe it was already at your table when you were seated). My favorite is the oily pepper sauce in the middle. It is very strong, so make sure to be conservative when you start out. There usually is Sriracha, which is a spicy chili sauce that tastes a little different. Part of the reason I love Pho is because I can make it as spicy as I want.
Once you've added all the veggies and spices, stir the soup with your chopsticks or fork. If you prefer to use a fork and your restaurant didn't provide one, feel free to ask. It's better to enjoy your meal than suffer with awkward eating utensils.
The beef is thinly sliced and placed into the boiling hot soup raw, so make sure you stir your soup thoroughly until the meat is cooked to your liking. The soup will be really hot, so make sure you be careful when you take a bite.
Lean meat, fresh veggies and healthy oil make for a filling an healthy meal. I usually count 7 points for the soup, 2 points for the healthy oil and 0 points for all those crispy vegetables. Next time you drive past a strip mall, be on the lookout for a Pho Noodle shop and take a moment to drop by. You will find a new food that us fun to eat and healthy for your body!
Previous: Post-Walk Calf Stretch
Next: Drink Enough Water

6 Responses to "How To Eat Pho Tai Soup"
Leave a Reply
-