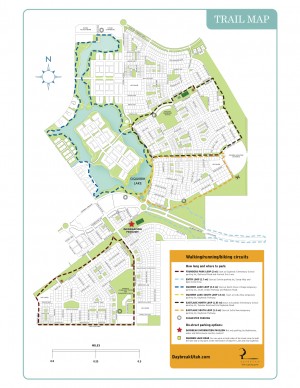 One of the biggest attractions for our move (and subsequent upending of our lives) was this trail map of Daybreak. We moved to this community so that we could live right next to a huge number of trails that go around lakes and through green areas.
Our last home was located near downtown Salt Lake City. There were lots of parks to enjoy. In fact, you can see the videos of all three of them here:
When we first moved downtown, I was so happy that I lived within walking distance of three parks. After six years of taking walks to them, I can still honestly say that they are just as wonderful now as they were when I first moved there. If Daybreak hadn't had such accommodating trails all so close to my home (including a lake), I may have never been tempted away from the Sugarhouse area.
The truth of the matter is, no matter where you live, there is SOMETHING interesting to walk past. If you live in the heart of a big city, there are interesting restaurants, galleries and shops to peruse. If you live in the boondocks, there is wildlife, tall grasses and open skies to keep you company. The suburbs have parks and plenty of homes to walk past and compare with your own.
Stop reading my blog RIGHT NOW and go online to Google Maps to see what is near your home. Look for parks, shops, trails and back roads.
Wherever you live, there is something interesting to walk and run past, I guarantee it. Explore your neighborhood right now because for all you know, your life may be packed up in boxes and you'll be sleeping halfway across town within a month.
Previous: When My Real Life Provides Enough Exercise
Next: How To Eat Healthy When You're Moving

Leave a Reply
-