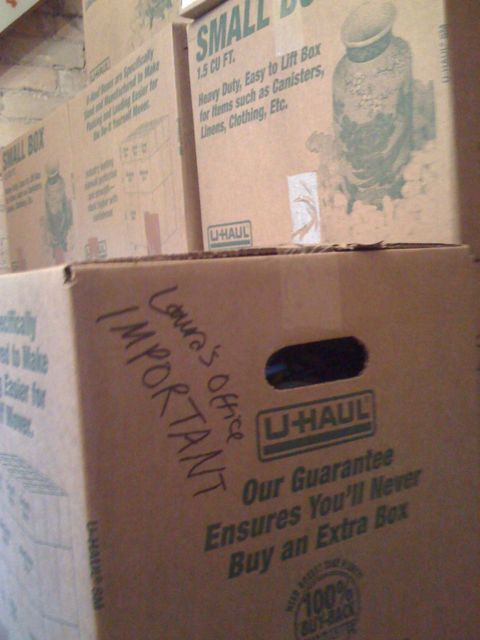 Mike and I are in the process of moving. Our entire life is packed up in cardboard boxes. Even my beloved computer has been broken down to it's component parts: keyboard, mouse and monitor are all packed neatly into labeled boxes.
The bad part of this is that I'm barely able to work. I am tapping this entry out on my iPhone using an app I downloaded on a lark over a year ago. Even worse, I can't send out any journal or DVD orders. If you want to buy anything, be forewarned that it will take an extra week to show up at your door.
The good part of all of this is that my real life is providing me with more than enough exercise. My muscles are stinging with the work of the last few days and there are many more to come. I'm ashamed at the pain I'm feeling in my legs and arms. Just when I think I'm a tough and strong bird, I find that my quads aren't up for the challenge. I guess I need to increase my weight training when all of this is over.
My posting maybe sporatic over the next few weeks, but don't be worried. I haven't fallen off the wagon. I just don't know where I packed it.
Previous: Hey, Good Looking!
Next: Find the Walks Near Your Home

One Response to "When My Real Life Provides Enough Exercise"
Ruth Says:
July 3rd, 2009 at 1:30 pm

Oh the joys of moving… We have to pack up our house and move in a few weeks. Not looking forward to it!
Leave a Reply
-