This postcard from PostSecret made me crinkle my brow in confusion.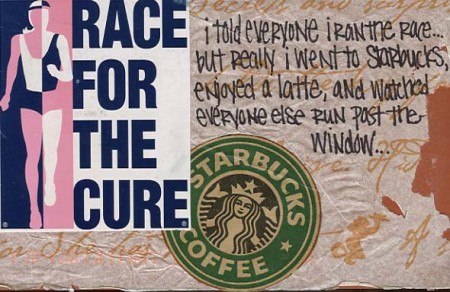 It reads:
I told everyone I ran the race…
But really, I went to Starbucks, enjoyed a latte, and watched everyone else run past the window.
My confusion was, "So what?" Races are held to earn money. If you paid the entrance fee, they got what they wanted. If you didn't run the race, you didn't get all the benefits of training, so anyone can tell that you didn't run it. It all was a big confusion until I realized how different I am from a lot of people.
I don't care if other people know I ran a race. The MOST important thing about running a race is that I know that I did it. It was never about impressing other people. I've been trying my best to impress myself all along.
Ironically, no matter how many races I run (or walk), I have yet to really impress myself. I might as well have sat at Starbucks for all the lack of self esteem I've achieved from race participation over the years. The only thing that has been better is that I am stronger. I can't deny that, no matter how much I feel like I have to prove myself.
---
PostSecret's beneficiary is the National Hopeline Network. It is a 24-hour hotline (1 (800) SUICIDE) for anyone who is thinking about suicide or knows someone who is considering it.
Previous: Felicia Day Tries Out Xbox Project Natal
Next: Book Review: The Fat Girl

Leave a Reply
-