I love this old ad from 1943: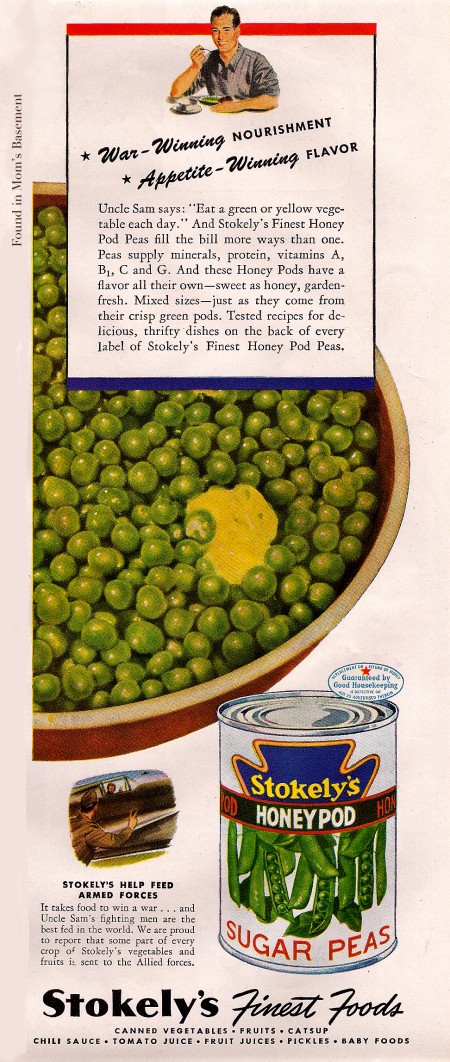 It reads:
War-Winning Nourishment
Appetite-Winning Flavor
Uncle Sam says: "Eat a green or yellow vegetable each day." And Stokley's Finest Honey Pod Peas fill the bill more ways than one. Peas supply minerals, protein, vitamins A, B1, C and G. And these Honey Pods have a flavor all their own – sweet as honey, garden-fresh. Mixed sizes – just as they come from their crisp green pods. Tested recipes for delicious, thrifty dishes on the back of every label of Stokely's Finest Honey Pod Peas.
Whether it was Uncle Sam who recommended that you eat green or yellow vegetables every day or just the marketing director, he was right. Including five servings of vegetables and fruit in your diet every day is essential to keeping you feeling full and giving you the nutrients you need.
Next time you are thinking of a snack to eat when you're hungry, remember your Uncle Sam…
Ad via: Found in Mom's Basement: 1943 ad for Stokely's canned peas with WW II message
Previous: My Symbiont Part 3 of 3
Next: Twitter Updates for 2009-05-02

One Response to "Peas Are War-Winning Nourishment"
angela Says:
May 2nd, 2009 at 6:12 am

And they are a great addition to casseroles and salads. Too bad I'm the only one in my family who likes them.
Leave a Reply
-