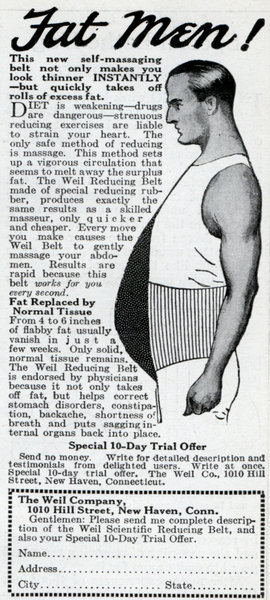 I found this advertisement from the 1920's for The Weil Reducing Belt.
It reads:
Fat Men!
This new self-massaging belt not only makes you look thinner INSTANTLY – but quickly takes off rolls of excess fat.

Diet is weakening – drugs are dangerous – strenuous reducing exercises are liable to strain your heart. The only safe method of reducing is massage. This method sets up a vigorous circulation that seems to melt away the surplus fat. The Weil Reducing Belt made of special reducing rubber, produces exactly the same results as a skilled masseur, only quicker and cheaper. Every move you make causes the Weil Belt to gently massage your abdomen. Results are rapid because this belt works for you every second.

Fat Replaced by Normal Tissue

From 4 to 6 inches of flabby fat usually vanish in just a few weeks. Only solid, normal tissue remains. The Weil Reducing Belt is endorsed by physicians because it not only takes off fat, but helps correct stomach disorders, constipation, backache, shortness of breath and puts sagging internal organs back into place.
This ad might seem ludicrous and silly over eighty years later, but there are companies that are still selling this idea to this day:
Just like in 1920, you are unlikely to see any long term effects from a reducing belt, or trimming belt, or abs belt or anything that you put on your body. The only thing that will be lighter is your wallet.
Previous: Is Riding Your Bike To Work Bad For The Environment?
Next: Ask Laura: How To Get In Your Daily Oils

Leave a Reply
-