I found this advertisement for Quaker Puffed Wheat cereal from 1969:
It reads:
You can win the battle of the bulge.
Eat the 56 calorie cereal.
You don't have to skip breakfast.
Just calories.
Quaker Puffed Wheat and Puffed Rice have only 56 per bowl. A satisfying yet frugal way to start the day.
From your friends at Quaker.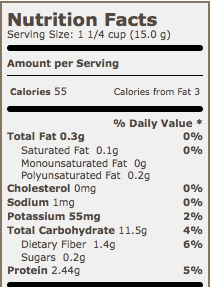 In the days before nutrition facts, the statement of "56 calories per bowl" could mean almost anything. What size of bowl? Now that we have nutrition facts at our disposal, it's VERY easy to see that Quaker wasn't lying to us back in 1969.
You can have 1 and 1/4 cups of Puffed Wheat for only 55 calories, 0.3 g of fat and 1.4 g of fiber. With nutrition facts like that, Quaker Puffed Wheat is one of the better cereals to choose for breakfast.
Of course, The Battle of the Bulge is a war that not many of us are fighting now. I haven't heard that phrase for a LONG time…
Photo via: Found in Mom's Basement: 1969 ad for low-cal puffed wheat cereal
Previous: How To Set Up Edibles To Work With Weight Watchers
Next: Is Riding Your Bike To Work Bad For The Environment?

4 Responses to "Win The Battle of the Bulge"
Leave a Reply
-