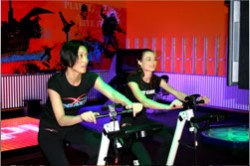 This week we look at fitness gadgets that are so new that they aren't available to purchase yet. They were featured at the IHRSA (International Health, Racquet and Sportsclub Association) 2009 Conference in San Francisco.
---
If you have ever played DDR and wished you could play it against a whole room full of people, that is just one of the many options available to you at an Xrkade (pronounced e-xer-cade). When I first heard about Xrkade, they were just an idea, but now they are in over twenty states.
Xrkade is no more a gym or an arcade than Disneyland is a roller coaster park. It's a cutting edge environment and experience complete with the most advanced gaming and entertainment systems where people become a "human joystick."
Here is a promotional video showing people playing and working out:
Here is a virtual tour of an Xrkade:
Unfortunately, there isn't one in Utah, so I can't really go and try one out. I do love the idea, though. I can't wait until ALL gyms look like Xrkade!
Previous: New Fitness Gadgets Week: Jacobs Ladder
Next: New Fitness Gadgets: TRX Suspension Trainer

2 Responses to "New Fitness Gadgets Week: Xrkade"
Renee Says:
April 16th, 2009 at 10:07 am

I hate the public gyms (work out at home). But if we had one of these here in the StL, I'd check it out!

Andy Says:
April 17th, 2009 at 9:27 am

Yeah! I've been to ones in Baltimore. It's way more fun than you could possibly imagine! It's also more work that you realize. I'm totally going back!!
Leave a Reply
-