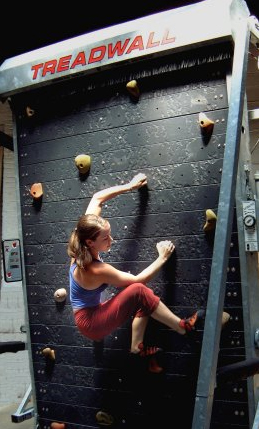 This week we look at fitness gadgets that are so new that they aren't available to purchase yet. They were featured at the IHRSA (International Health, Racquet and Sportsclub Association) 2009 Conference in San Francisco.
---
If you like mountain climbing, then the Treadwall is a machine that I bet you're hoping your gym buys next. It's like a vertical treadmill that you climb up. It's better than a climbing wall because you are never more than six feet off the floor, you can set it vertically, an easy incline, or even an overhang incline.
Here is a promotional video about it:
They have a Treadwall at the gym in Camp Buehring, Kuwait. Here is a quick video that gives you a good idea of how they work without the marketing hype.
All the climbing bits are interchangeable, so a gym owner could change them out and make the Treadwall be completely different every week. Since it's so big, it would be impractical for a normal person. This really seems like a product that is marketed to gym owners. Those mountain-climbing obsessed people might be able to find a spot in their home for a Treadwall, but for the rest of us, we can only hope that one shows up at our local gym.
Previous: New Fitness Gadgets Week: SpeedFit Speedboard Treadmill
Next: New Fitness Gadgets Week: Alter G-Trainer Anti-Gravity Treadmill

2 Responses to "New Fitness Gadgets Week: TreadWall"
Marc Lavender Says:
April 13th, 2009 at 8:28 pm

Wow … i want one so bad but i bet its so expensive.

JR Says:
April 24th, 2009 at 6:37 am

This was at Quads fitness in Chicago last year (end of 2007), and I had the impression they had it for awhile. I joined Quads b/c they were the cheapest in the neighborhood, so I'm sure other gyms have it too.

And it was fun, but I didn't find I could sustain it for more than 10 minutes without my feet getting numb.
Leave a Reply
-