If you look at the iPhone app section on iTunes, you will find hundreds of fitness and health applications for your phone. Finding the good ones, however, can be a little difficult. A couple of weeks ago, I downloaded the Nike Women Training Club App (iTunes Link) because it was free.
You have to register on their website, which is a bunch of advertisement for their shoes, but after that, you can use your app on your iPhone to exercise.
Just like the iPump workouts, you are given a series of exercises to do. The videos show you how to do them and then you can check off whether you did them or not.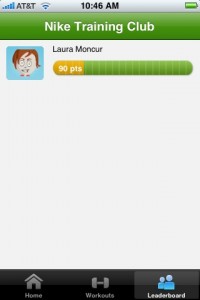 The best part is that they give you points for completing workouts. I'm a sucker for points and I love to see myself on the leaderboard. I don't have any friends yet, so I can't see how I am competing against others, but I LOVE collecting points for a workout.
You don't need an iPhone to participate in this program. You can log in online, start a workout, invite friends, see the videos and even print out the workout to take to the gym or just to do at home. You don't need a lot of equipment to do the workouts either. It would probably help to have some Nike training shoes, so that's probably why Nike has invested in this program.
This app isn't perfect, of course, Their idea of beginner workouts has some exercises that are FAR too difficult for a beginner. I really wish they would let me choose to do an easier exercise for less points. On one of the exercises, I modified it to an easier exercise and said that I did the "real" exercise. On another, I was just completely incapable of doing the workout, so I had to skip it.
I'd also like to see how I compare to other people. I don't have very many friends who are willing to play with every new iPhone app that comes along, so I felt like the workouts were just me competing against myself. I would have loved to see how other people were doing, even if I didn't know them. What's the point of earning points if I can't kick somebody's butt?
On the whole, I like the Nike Women Training Club app for the iPhone. It has a wide variety of exercises to do, but most importantly, it was free. A free workout program that you can carry in your pocket with you at all times, is a great thing to have!
Previous: Eat A Gorilla Sandwich
Next: Quadrathon Rides Through Death Valley

One Response to "Nike Women iPhone App"
angela Says:
March 26th, 2009 at 12:46 pm

Sounds like fun. I will check it out, but I don't have a phone so we'll see what it allows.
Leave a Reply
-