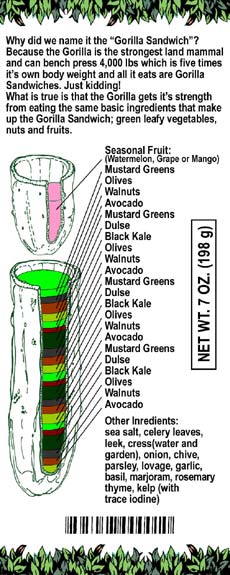 When I saw that this food was called a Gorilla Sandwich, I immediately wanted one. Who wouldn't want to be a strong monkey?!
There was no need to cut the cucumber into the salad, because I could now stuff the salad into the cucumber, and my all raw sandwich was ready to go. I had a great surf session, and afterwards, my first Gorilla Sandwich tasted awesome.

I had overcome the challenge by accident or inspiration. Sometimes the two are hard to keep apart. However, the solution turned out to be the best possible. I was able to get rid of the pulp, the part of the cucumber that was very high in water content, which was one of the main reasons the other ingredients would spoil so easily.
It is supposed to be available at Whole Foods. I was so excited about this that I went to my Whole Foods that evening and looked for a Gorilla Sandwich for myself. Unfortunately, I couldn't find one.
Have any of you tried this? I'm tempted to make one for myself!
Previous: Antioxidant Showdown: Hershey's Vs. An Apple
Next: Nike Women iPhone App

4 Responses to "Eat A Gorilla Sandwich"
Leave a Reply
-