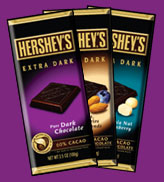 I am just about sick of chocolate bar companies bragging about the antioxidant power of chocolate. I got a promotional email from Hershey's and The Best Life. Bob Greene has teamed up with Hershey's to promote their Extra Dark Chocolate bars as approved foods.
They are promoting the chocolate as some great food for health:
Chocolate lovers rejoice! Hershey®'s Extra Dark Chocolate has become the first chocolate bar to earn the respected Best Life Treat Seal of Approval. Designed by renowned health and fitness expert Bob Greene, the Best Life Treat Seal is awarded to products that have a nutrition edge over products in their class and are available in portion sizes of 150 calories or fewer. The Treat Seal appears on select grocery products and is intended to help consumers make healthier food and lifestyle decisions.
The criterion for the Best Life Treat Seal is that it should be available in portion sizes of 150 calories or fewer. Let's look at the nutrition facts for the candy bar, shall we?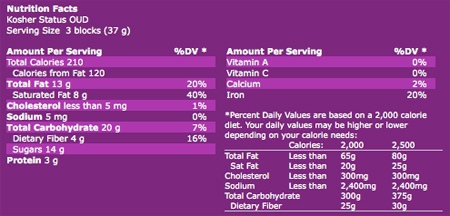 For three squares of the candy bar (most bars have several servings), it's 210 calories, so the Hershey bar fails the bare minimum requirement for The Best Life.
But what about those magical antioxidant properties of chocolate?
The most important antioxidants are beta carotene (provitamin A), vitamin C, vitamin E, selenium, and proanthocyanidin (or procyanidin). Of these, chocolate has only procyanidin, or Vitamin P as it is starting to be called. If you look at the nutrition facts, Hershey's has no Vitamin A or C. The other three antioxidants aren't listed on the nutrition facts label.
Chocolate is known to have procyanidin, but it is by no means the highest in that antioxidant. That award goes to black chokecherries, but they are a little difficult to find at your local grocery store. A granny smith apple, however, is VERY easy to find. How does it compete against Hershey's?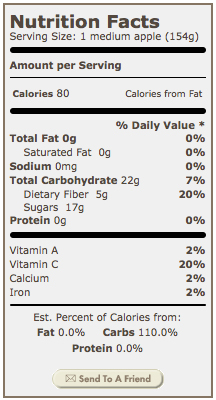 A medium apple is only 80 calories, has 2% of the Vitamin A and 20% of the vitamin C you need for the day. It also doesn't show how much procyanidin it has, but considering that there is zero fat and five grams of fiber, the apple beats Hershey's hands down.
To me, The Best Life Food Partners just seems like a marketing ploy to sell you processed food. Here is the fine print from their website:
Best Life Partners benefit from use of the "Best Life approved" seal, as well as integrated book content and web site mentions, banner advertising, tour sponsorships and some of the most coveted national and local broadcast media coverage around. We are always looking for great food, fitness, apparel and wellness companies to partner with.
It all makes me a little angry, actually. Now I feel like I can't trust Bob Greene…
For more information about antioxidants and procyanidin:
Previous: Primal Workout: Trick Your Body Into Getting Thin
Next: Eat A Gorilla Sandwich

4 Responses to "Antioxidant Showdown: Hershey's Vs. An Apple"
Leave a Reply
-