This postcard from PostSecret reminds me of how different our bodies are.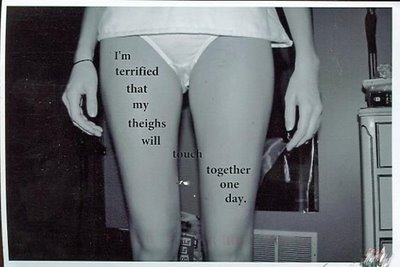 It reads:
I'm terrified that my thighs will touch together one day.
As thin as I've ever gotten, my thighs have ALWAYS touched together. I have never been able to stand up without my thighs touching. That makes running VERY difficult and chafing is a problem unless I wear the correct clothing. When my mom was at her tiniest, I was talking about my problem with chafing on my inner thighs when I run. She nodded and said that she had the same trouble on her evening walks.
I was shocked. She couldn't have weighed more than 120 pounds at the time.
As similar as we are, there is so much variation in the make up of our bodies. The girl in the PostSecret card would have to gain hundreds of pounds in order for her thighs to touch, whereas I may never be free from it no matter how thin I get. Honestly, whether my thighs rub against each other when I'm doing my daily run isn't the issue. The issue is whether I do the run every day.
---
PostSecret's beneficiary is the National Hopeline Network. It is a 24-hour hotline (1 (800) SUICIDE) for anyone who is thinking about suicide or knows someone who is considering it.
Previous: Sports Active from Electronic Arts
Next: Primal Workout: Trick Your Body Into Getting Thin

13 Responses to "PostSecret: Thighs"
Leave a Reply
-