This postcard from PostSecret is so true of anyone with an eating disorder: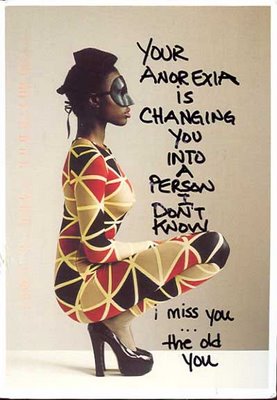 It reads:
Your anorexia is changing you into a person I don't know.
I miss you… the old you.
Anorexia isn't the only disordered eating that changes you. Binge eating makes me do crazy things. Sometimes I see the look on Michael's face and I KNOW that I'm doing something insane and that I should stop, but I do it anyway.
I just want to be the person I was before food became so weird in my life.
---
PostSecret's beneficiary is the National Hopeline Network. It is a 24-hour hotline (1 (800) SUICIDE) for anyone who is thinking about suicide or knows someone who is considering it.
Previous: No Fat Chicks and Can You Find Your Penis?
Next: Super Slim Me: Part Four

5 Responses to "PostSecret: Anorexia Is Changing You"
Leave a Reply
-