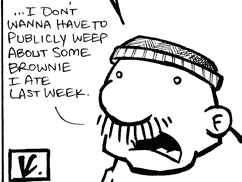 Sheldon's grandpa has been using an online weight control program that is very similar to Weight Watchers. In this one, he talks about how he would rather do the online program than meet with people and talk about feelings.
I can't tell you how many times I've cried while eating. I talk about it here:
Until I am able to deal with my emotions without food, I will always have problems getting to a healthy weight. This is something that I still haven't mastered, so if any of you have any ideas (besides writing in my journal, because I do that A LOT) please leave them in the comments.
Previous: Super Slim Me: Part Three
Next: New Year's Resolutions: Week 8

5 Responses to "Weep Over That Brownie I Ate Last Week"
Leave a Reply
-