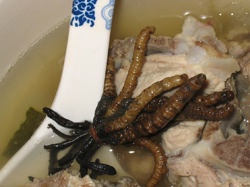 Note to self: Next time I feel like bingeing, look at all the photos on this website. It makes me want to stay away from food and become a vegetarian all at the same time.
Their list of the Top Ten Most Disgusting Foods are as follows: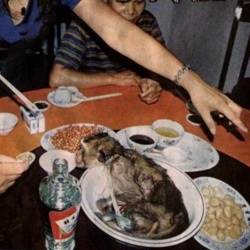 Snake Blood and Bile
Balut – Duck Fetus
Bee Larvae
Spiders
Monkeys Brains
Rats
Caterpilla Fungus
Bird Spit
Ox Penis
Kopi Luwak: Rodent Feces
Their names alone don't sound too bad, but when you see all the photos and the descriptions of what they are, it makes me want to stop eating for at least an hour.
Previous: Eating Healthy On Valentine's Day
Next: "Sensible" Weight Loss Seminar?

3 Responses to "Top 10 Disgusting Foods"
Mary Says:
February 15th, 2009 at 8:37 am

This sounds like the menu for a challenge on "Survivor"

Mel Says:
February 16th, 2009 at 10:26 pm

After seeing those pics it just made my journey into vegetarianism so much easier..

Hugo Says:
February 18th, 2009 at 10:28 am

I really wish I hadn't been eating at the time I looked at this. Enough to stop anyone eating I would think 🙂
Leave a Reply
-