This postcard from PostSecret is so motivating to me.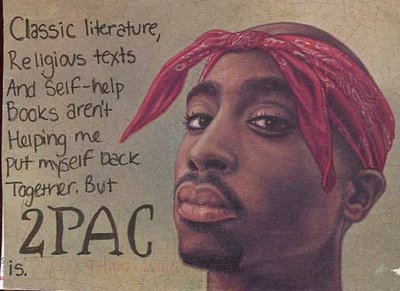 It reads:
Classic literature, religious texts, and self-help books aren't helping me put myself back together, but 2Pac is.
I have found inspiration on YouTube FAR more often than in church. I have found the will to hold on one more day from listening to Weird Al Yankovic more than I've ever found it in classical music.
What keeps you from eating until your stomach bursts? What keeps you exercising every day? I think the entire world would be surprised to know what motivates us isn't always the classic literature, religious texts and self-help books.
---
PostSecret's beneficiary is the National Hopeline Network. It is a 24-hour hotline (1 (800) SUICIDE) for anyone who is thinking about suicide or knows someone who is considering it.
Previous: New Year's Resolutions: Week 5
Next: Mark Bittman Logs What He Eats

One Response to "PostSecret: 2Pac"
OE Says:
January 30th, 2009 at 10:35 pm

Weird Al as a source of inspiration makes perfect sense. He is kind, optimistic and very flexible. I saw a video of him putting his foot behind his head and then standing up on the other leg when he was 47 years old.
Leave a Reply
-