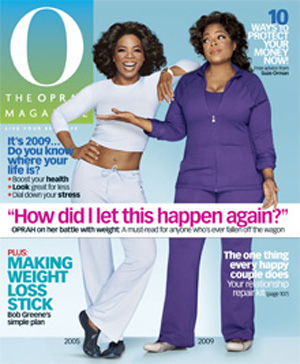 For those of us who have been watching the covers of O Magazine, we know that Oprah had gained some weight. It happened slowly, but one day at the checkout counter a few months ago, I saw an O Magazine right next to a tabloid announcing that she had gained weight. I looked at Oprah's magazine and realized, "Yes, she HAS gained some weight."
Then, the January 2009 O Magazine hit the stands and Oprah is so open about it all:
I can't believe that after all these years, all the things I know how to do, I'm still talking about my weight. I look at my thinner self and think, "How did I let this happen again?"
Weight gain can happen for many reasons. In Oprah's case, she was having some physical problems. When she was finally diagnosed with hypothyroidism, she felt defeated.
It seemed as if the struggle I'd had with weight my entire adult life was now officially over. I felt completely defeated. I thought, "I give up. I give up. Fat wins." All these years I'd had only myself to blame for lack of willpower. Now I had an official, documented excuse.
She is back on the road to recovery and has the kahunas to admit that she has a problem. Next time you feel like you just can't do this, remember how brave Oprah is to show herself on her magazine next to her past self. It's a before and after picture that is rarely shown, and Oprah deserves a pat on the back for her honesty.
Via: Oprah's Weight Gain
Previous: Walking Your Dog In The Winter
Next: Hooray for Curvation

3 Responses to "Oprah's Battle with Weight Gain"
Just_Kelly Says:
December 29th, 2008 at 5:52 am

While I think her ability to admit and address her weight as an issues again I can't help but think: 1) Here we go again… 2) She doesn't offer anyone a damn explanation!

Just my 2 cents.

Just_Kelly choosinglosing.wordpress.com

iportion Says:
December 29th, 2008 at 12:41 pm

Oprah doesn't owe me an apology. Even people with trainers and money for special diet food are just humans and can fail at their diet. Only 20% keep the weight off after 5 years this is often wrongly said its 5% I think if we became more supportive to one another we could bump that to 50% It's harder to keep it off than lose it. I have always known I could regain my weight. I kept the weight off for a long time but stress got to me. I realize I have to start again soon. I don't care about being fat. I care about feeling healthy. I don't owe anyone apology accept maybe my children because I need to show them healthy eating.

MizFit Says:
December 30th, 2008 at 4:45 am

for some reason this whole LIFE YER BEST LIFE week annoys me.

it feels contrived and rings so hollow to my ears.

I shall end here for fear of hijacking your post 🙂
Leave a Reply
-