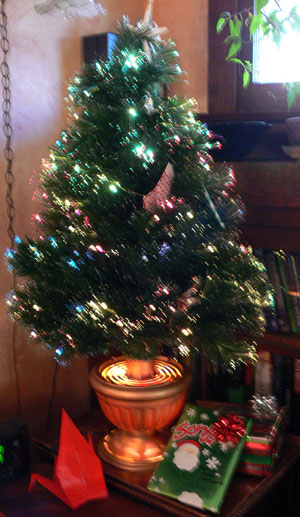 As you're enjoying the holiday today, remember to:
Keep the meals light: No matter what is served at Christmas you can keep your meals light by choosing small portions. Don't deny yourself the traditional foods that you only get once a year, but keep the portion size SMALL and you'll give yourself a present this year.

Put away the food after the meal: Leaving the food out is an invitation to graze all day long. After the meal is over, put the food away.

Take a walk with your family after Christmas Dinner: You'll burn off some of the calories and prevent food coma.

Play in the snow with the kids: Christmas is the one time of the year when parents actually PLAY with their children. Make it an active time and throw some snowballs or built a snow fort in the backyard.

Remember it's a holiDAY, not a holiWEEK: Christmas is ONE day. Don't continue celebrating with food after today is over.
As always, have a happy holiday and be here bright and early tomorrow morning for more inspiration!
Previous: Ask Laura: Are You Affiliated With Weight Watchers?
Next: Turn Your Bad Habits Into Good Habits

Leave a Reply
-