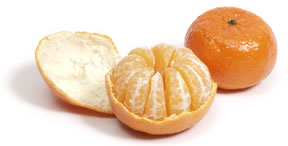 You can only buy Clementines during this time of the year, and lately, you can only buy them in a HUGE bag. I've talked about Clementines before:
My favorite aspect of clementines is how easy they are to peel and the fact that they have no seeds. I DON'T like that I have to buy a huge container of them instead of being able to just buy a couple at a time. The big box of clementines inevitably goes bad before I can finish them all.
NOT THIS YEAR!
This year, Mike had a great idea. We took half of the clementines, peeled them and put them in plastic bags to freeze them.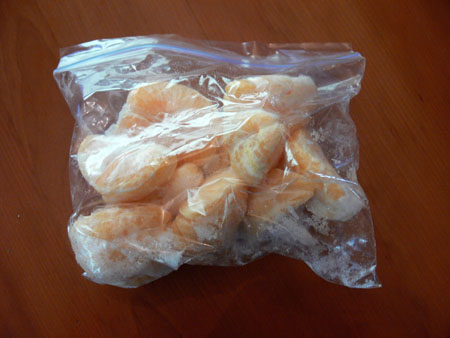 "I don't think you can freeze citrus," I told Mike. "They're going to go bad anyway, so let's just try it," he replied, "Maybe they'll be like frozen grapes."
Just last week, I tried using the frozen clementines in a smoothie and they worked PERFECTLY!
Clementine Smoothie
1 cup frozen clementine sections
1 cup skim milk
2 tsps of healthy oil (I like to sneak it into treats so I don't notice it)
1 packet of Stevia (or Splenda) – optional (most of the time the clementines are sweet enough)
Put all the ingredients into the blender and mix on high until smooth.
1 serving – Approximately 250 calories – 5 WW Points – 2 fruit, 2 oil and 1 milk serving.
The smoothie tasted like a healthy dreamsicle, and I LOVE that I get to check off so many boxes on my food journal.
Clementines are only available for a short time each year, so make sure you grab a bag of them and enjoy them both fresh AND frozen.
Previous: Frozen Grapes: Healthy Diet Staple
Next: A.N.A Does NOT Mean "A New Approach"

3 Responses to "Clementine Season Is Here Again"
Elisa Says:
December 20th, 2008 at 6:18 am

Well, I've been buying the little crates of these at Kroger for $5.99. My girls love them and so do I! I never thought about freezing them. Wonder how they taste when they thaw?

They are deeelicious!

suzee Says:
December 29th, 2008 at 1:40 pm

I never would have thought to put citrus in a smoothie…sounds GREAT. Thanks!

stephanie cataliotti Says:
July 4th, 2009 at 12:32 pm

my clementines smell and taste musty. My friend says it comes from the little crate they came in. Bought them 3 days ago. First ones were great but today they had a horrible musty smell and taste. What can I do? I tried soaking them in cold water, but that didn't work. Any suggestions?
Leave a Reply
-