For the second time in a row, a woman has won The Biggest Loser.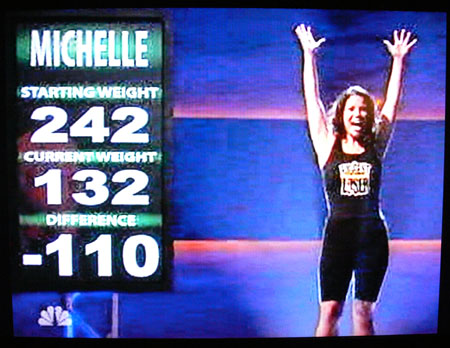 Michelle, who was actually tempted to just leave the campus when things got really tough, stuck it out and ended up being 2008's Biggest Loser. Here is her when she made it to the Final Three:
Here is a horrible quality video of her win:
Both she and last year's winner, Alli, were coached by Jillian. She has her own website where you can get a daily email and other great information:
I have a love/hate relationship with The Biggest Loser. The contest aspect of the show really pushes the contestants to lose weight quickly. Some of the people keep the weight off, but there are many contestants that we never hear from again, who just DON'T maintain their losses. Additionally, watching the show can be inspiring because you see these people working so hard, but it's also de-motivating because when I compare my weekly weight loss with theirs, I am suddenly unhappy with my "measly" one pound a week.
As far as reality television goes, The Biggest Loser is the only one I can stand to watch. As far as REALITY goes, however, The Biggest Loser leaves a lot to be desired.
Previous: Easy Meals: Refried Beans
Next: Frozen Grapes: Healthy Diet Staple

2 Responses to "Lightning Strikes Twice on The Biggest Loser"
Flo Says:
December 18th, 2008 at 9:29 am

I kind of agree about the Biggest Loser. It's definitely a love/hate thing although I am hooked. It's interesting that both Alli and Michele started on the ranch as the pink them. Something to that???

julie Says:
December 23rd, 2008 at 9:33 pm

I love my 1 lb loss a week, I sure wouldn't want to live like they live on that show. I sort of watch it while I read, more from morbid fascination than really liking it, but I think the one's who keep the weight off are lucky, and it's not really the norm. BTW, we don't have clementines, we have satsumas, and I buy them by 5 pound bag, give a few away, eat very many.
Leave a Reply
-