Back in May, we visited Welches, Oregon. I took a walk through the Wildwood recreation area and filmed it. It took a while to get the video ready to sell, but it's ready now just in time for Christmas.
Here is a glimpse of what the video looks like: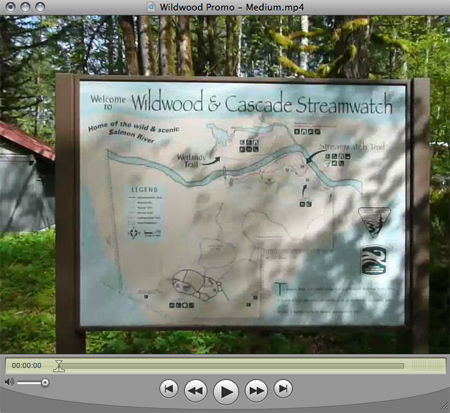 It was warm and moist and the walk through the forest was invigorating.
Estimated Distance: 3.02 miles
Estimated Speed: 2.0 mph
Time: 80 minutes
I'm offering this workout DVD for $5 plus shipping.
Order Starling Fitness Walking Videos Here
There are so many trees that I can't see on Google maps to make a route map, but I tracked the workout with my Nike+, so you can see the stats here:
Video Description:
The Wildwood river walk calls to you with its cool shade and moist ground. You can smell the leaf blower in the distance while you start your walk. Say hi to passing joggers as you head toward the Salmon River. Leaf through the field sketch book in the marshlands. Dodge the school children as they head on their field trip.
From the tops of the trees to the toadstools growing on the logs, Wildwood is a relaxing escape from your day. Escape to Oregon and take a walk through the forest.
Previous: Wate-On
Next: Mya Playing At The Park

Leave a Reply
-