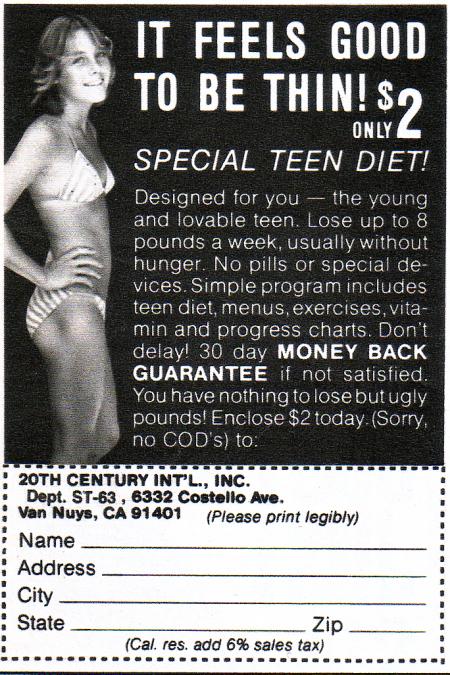 While I was perusing the old Seventeen Magazines at the library, I found this advertisement:
It reads:
It Feels Good To Be Thin Only $2

SPECIAL TEEN DIET

Designed for you – the young and lovable teen. Lose up to 8 pounds a week, usually without hunger. No pills or special devices. Simple program includes teen diet, menus, exercises, vitamin and progress charts. Don't delay! 30 day MONEY BACK GUARANTEE if not satisfied. You have nothing to lose but ugly pounds! Enclose $2 today.
The address on the ad is merely a house in Van Nuys, California, and I'm sure that house was there back in 1984.
What happened to 20th Century Int'l, Inc.? Was it just some guy in a house sending out diets to desperate teens all over the country? Heck, I'M just some girl in a house writing about health and fitness.
I just can't stop thinking about this "special teen diet" because I looked at the ad SO MANY TIMES when I was a desperate teenager. I obsessed over the picture of that girl every month. I resisted the temptation to send my two dollars. Back then, minimum wage was $3.35, so two bucks was almost an hour's worth of work. I wanted to look like her so much, but I had no hope that some tiny ad in the back of Seventeen Magazine would make me skinny.
Even now, I'm wondering where that girl is. What does she look like now? If she was fifteen in 1983, she would be forty years old now. Is she still the epitome of the "young and lovable teen"? Where is the "It Feels Good To Be Thin" Girl now?
Did any of you ever send away for this diet? Was it as much of a rip-off as my teenaged-mind said it was?
Previous: Can Walking In Special Sandals Make You Thin?
Next: Wate-On

One Response to "It Feels Good To Be Thin"
Debby Says:
January 6th, 2009 at 1:28 pm

The mere fact that you are asking the question is your answer most likely. You know this person in Van Nuys did not have the magic bullet just like most of the people that peddle these product today don't have magic bullets. There is no magic bullet. All there is are people that know what they have to do and then there willingness to do it. Yea, maybe this program or that is effective but it is only effective if the person doing it will follow it. Right? I know it's right and you know you were right when you were a teenager. Thanks, Debby
Leave a Reply
-