Found in Mom's Basement posted this advertisement for Chef Boy-Ar-Dee Ravioli from the 1970's: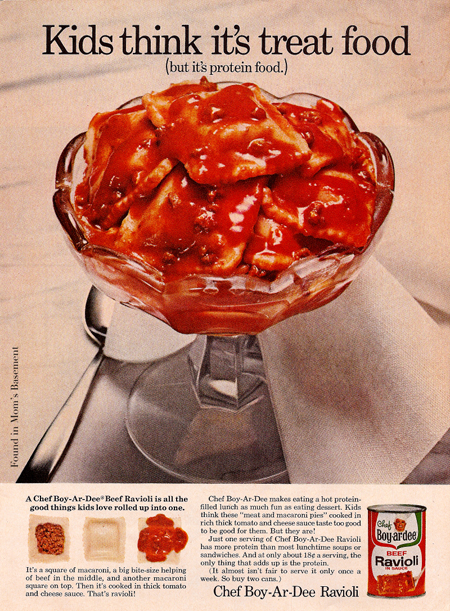 It reads:
Kids think it's treat food
(but it's protein food).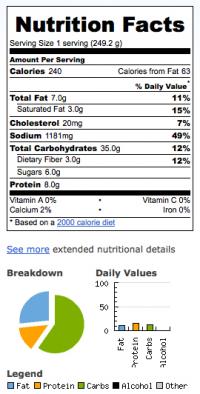 This advertisement was made before food companies were required to label their products with nutrition facts, so it was easy for Chef Boy-Ar-Dee to say that their ravioli was "protein food." How could anyone disagree?
Now, however, we can ALL see that protein comes in at a slim third place behind carbohydrates and fat. Sorry, Mom, but the kid's were right. Chef Boy-Ar-Dee Ravioli is a treat food. At 240 calories a serving, the kids could eat a lot of REAL beef instead of ravioli.
It's easy to make fun of advertising from thirty years ago, but the truth of the matter is, food manufacturers are STILL lying to you. Keep a keen eye on the nutrition facts whenever you're tempted to buy something because it's "healthy." The only way that you can keep from being lied to is by arming yourself with information.
Previous: Sheldon Shows You How NOT Following Weight Watchers Works
Next: The Facts About Sleep and Obesity

One Response to "Mini Raviolis Are Protein Food? I Don't Think So…"
iportion Says:
October 24th, 2008 at 10:37 am

When I ate this stuff as a kid I didn't have a weight problem. it wasn't protein but it was portion controlled.
Leave a Reply
-