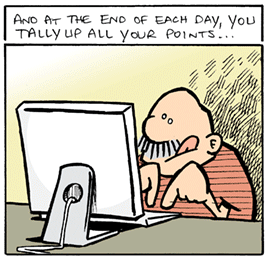 This Sunday's Sheldon shows how NOT to follow Weight Watchers:
The panel on the right is the only tip that I follow religiously. Especially now that they have made eTools SO much better, I love keeping track of my food online with Weight Watchers. They have made it easy and I really love how they have added the system to give me positive reinforcement for following the Healthy Habits For Living.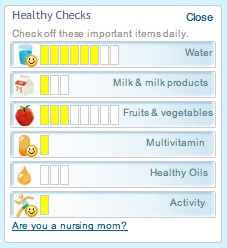 Do you see the little smiley faces on my water, vitamin and exercise Healthy Checks? That means that I've fulfilled my requirements for the day. I know it's such a small thing, but I really like trying to get all smiley faces every day. It feels like such an accomplishment when the program gives me a smiley face. I look at that field almost more than I check whether I have enough points left in the day. You see, I need to eat one more serving of dairy, two more servings of veggies and two teaspoons of healthy oil in order to get a full complement of smiley faces.
I don't know why something as simple as the gift of a smiley face should be enough to motivate me to eat healthy, but strangely, it does. I've been really happy with eTools ever since they released this new version. I just hope they don't screw it up and take away my smiley faces.
Previous: Should Your Child Be Taken Away From You Because She's Fat?
Next: Mini Raviolis Are Protein Food? I Don't Think So…

5 Responses to "Sheldon Shows You How NOT Following Weight Watchers Works"
Leave a Reply
-