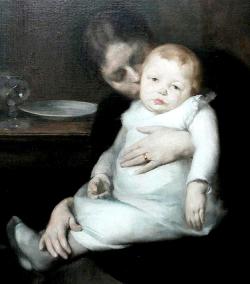 A child in Great Britain has been taken away from her parents because she is too fat:
An eight-year-old girl has been taken from her parents and put into care because she is seriously overweight.

The girl, who is 5ft (1.52m) tall, is a size 16 — six sizes bigger than the average for her age. She has suffered several health problems associated with her weight. But her parents, from West Cumbria, say that they are devastated, and that her size is due to a medical problem or genetics, not a poor diet.
Tam Fry, a member of the National Obesity Forum's board in Great Britain says that all obese children should be removed from their homes:
My point will be that we regard malnourished children as being abused and so with those children who are so overweight, either consciously or by neglect because their parents allow it, there should be a case for them being removed from their parents to a paediatric ward and put under weight management by doctors.

It is drastic but it's a long-term therapy. For the sake of the children it does need to be done because we have got children who are horrendously fat. In many cases it will mean thinking the unthinkable.
With the "unthinkable" being ordering gastric bypass surgery for children who are overweight, forcing them to subsist on tiny portions of pureed food.
Is an overweight child a symptom of neglect? I don't know. All I know is that I was one of those children forced into a dieting plan at a very young age. Everything that they did to me made things worse and started a bingeing problem that has lasted with me until this day. I struggle every day to eat wisely and what I was put through as a child made matters FAR worse than if I had been left alone.
Children learn to eat by watching their parents and siblings eat. If you have a child who is overweight and want to help them get healthy, the only way that you can positively affect them is by concentrating on yourself. Make sure you set a good example by eating small portions of healthy food. Never starve your child in an effort to get them slim. In the end, they'll end up fatter than before. I sure did.
Via: Rudd Sound Bites: "Frisked for Chocolate and Fizzy Drinks"
Previous: The Best Hot Cocoa for Two Points
Next: Sheldon Shows You How NOT Following Weight Watchers Works

5 Responses to "Should Your Child Be Taken Away From You Because She's Fat?"
Leave a Reply
-