The iPhone has gotten a lot of publicity because there are so many applications that can make it a great workout partner. One I covered is RunKeeper: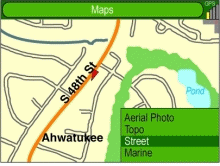 It looks like Blackberry isn't being left behind in that arena, however. Wendy Bumgardner, at About.walking talks about how to use your Blackberry to track your workouts:
Within minutes of hearing about it, Wendy had downloaded a program called AllSportGPS.
What do you get? A constant readout of your current speed and average speed for the session, plus accurate distance, plus a map of where you are and where you might be going! And when you're done, it automatically transmits it to a web site where it is saved for posterity, and you can choose to keep it private or share it with the world. But wait, there's more! A graph of your speed throughout the workout! An elevation profile for your workout so you can brag about the steep hills! A map of it all – and since it uses Google Maps, you can select a street view, satellite view, or topographic view.
It looks even better than Runkeeper because it also logs elevation, so if you happened to be running hills in San Francisco, you would get those extra kudo points for that as well as distance and speed. If you own a Blackberry or Motorola Smartphone, check out AllSportGPS for your workouts.
Previous: Destroy Part of Your Stomach To Lose Weight?
Next: Could You Escape?

4 Responses to "Use Your Blackberry To Track Your Workouts"
Leave a Reply
-