I came across this picture while I was researching gluttony the other day. It was labeled glutton.jpg.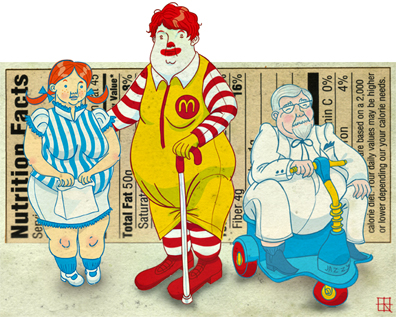 Wendy, Ronald McDonald and The KFC Colonel all have been rendered pudgy in front of a landscape of nutrition facts. The question remains, does fast food make you fat?
When I lost my weight, I did it almost solely on fast food, so I can categorically tell you that fast food doesn't necessarily make you fat.
I CAN tell you, however, that non-fast food will make you feel fuller.
When I eat fresh fruit, veggies, meat, eggs and dairy, I end up feeling fuller than when I eat the same amount of calories in fast food. Even if I make my own Egg McMuffin, I can do it with less calories and it tastes better.
So why eat fast food?
Duh, because it's fast and convenient. Sometimes we just don't have time for a healthy meal and we have to compromise. You just need to know that it's possible to do that without looking like the restaurant mascots above.
Previous: PostSecret: Fat And Pretend I'm Fine
Next: Blind Prophecy Gets In Shape

5 Responses to "Does Fast Food Make You Fat?"
Leave a Reply
-