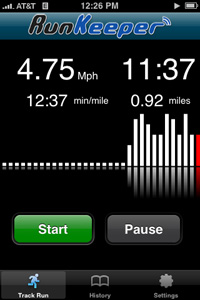 The iPhone Apps Store daily brings us new things that make our life better. Podphile recently reviewed RunKeeper, which is like a Nike+ app that runs on the iPhone and tracks your runs using its GPS features.
The review said that it works pretty well, but my iPhone thinks I'm in Minnesota instead of Utah most of the time, so I wondered how accurate it could possibly be when the iPhone GPS is THAT off. I downloaded the app and tested it compared to my Nike+ in the most difficult GPS area that I have found on my iPhone: my neighborhood.
Quite frankly, I was impressed. Not only did it give me the same accuracy as my Nike+ (which has always been good enough for me), it only took a couple of tries to get a GPS satellite signal. As I walked, I was happy to see that the mileage, pace and speed matched my Nike+ pretty well. So well that I secretly worried that it was just getting the signals from my Nike+ receiver in my shoe instead of the satellite signal. I couldn't wait to get home and see if Runkeeper mapped my run around a neighborhood in Wyzata, Minnesota.
As soon as I got home, I checked my run on the Runkeeper website. The map showed me doing my run in Salt Lake City, where my home ACTUALLY is instead of Wyzata, Minnesota, where the Google Maps app on my iPhone thinks I am. I would show you the map here, but then you would know exactly where I live and I'm a little uncomfortable with that. Rest assured that the map was eerily accurate, right down to the spot where I crossed the street. I've tested it many times near my home and it takes about five minutes to get a GPS signal, but when I tested it in Las Vegas, last week, it only took two tries to get the signal.
The map is pretty accurate. It usually thinks I've crossed a street when I haven't, but most of the time it's right on. Here is a copy of my quickie run around the trails by the Las Vegas Hilton.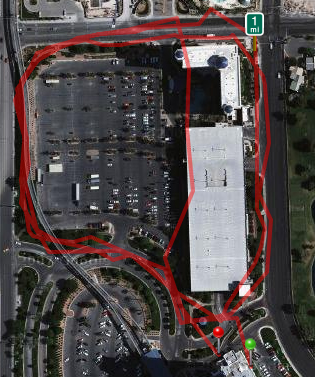 The coolest part of all is that I didn't have it sync my iPhone to get my data to the Runkeeper website. It sends it directly from my iPhone. It also saves it on my iPhone so I don't have to go to a stupid website just to see my runs. You would think that was a no brainer, but the Nike+ system has a problem with that and they've never fully solved it.
I was totally impressed with Runkeeper and the $10 price tag was MORE than worth the money. There are a few things that I wish it had:
Calories burned: It doesn't list the calories I've burned on the run and I can't put my weight into the software to do it. My Nike+ does this calculation for me and it has been pretty accurate. I like the simplicity of Runkeeper, but that is one feature that is REALLY important to me.

I can't use it on my treadmill: During the hot days of summer and the freezing days of winter, I use my treadmill ALOT. Runkeeper won't work on a treadmill (of course), so the Nike+ still has more usability for me there.

No Challenges: The Runkeeper site is very minimal. That is a VERY good thing because it loads quickly and is very easy to use. The only thing I would add to it is the ability to host challenges like I can on Nike+. That was the KILLER feature for me and it's what keeps me coming back to the bloated Nike website every day.
If you own a 3G iPhone and regularly go on walks or runs outside, then you owe it to yourself to purchase Runkeeper. For only ten bucks, you can add the functionality of a Garmin or a Nike+ kit without all the extra gear taking up space. I can't wait to see what the future has to offer for Runkeeper!
Update 09-01-08: After two weeks of using RunKeeper, I've found that if I turn off 3G before running the software, it will find the satellite signal almost immediately. There must be something wrong with iPhone's 3G that is interfering with the GPS signal. RunKeeper runs perfectly if I turn off 3G before I use it.
Previous: Ask Laura: Nike ID
Next: PostSecret: Fat And Pretend I'm Fine

9 Responses to "RunKeeper: It's like a Garmin on your iPhone"
Leave a Reply
-