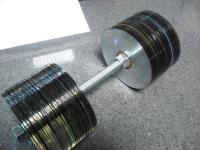 If you have been wondering how to incorporate your weight training with your home decor (and maybe even storage), here is an idea:
Danny made 10 pound dumbbells out CDs, a bolt and nuts:
150 CDs, about 75 on each side, on a threaded rod from the hardware store and then (8) bolts to hold it all together. No tools needed. Just thread it all and bolt it tight.

They weight about 10 pounds each and I actually love the shiny look of them. I made two of them and they are sitting in my living room. Very handsome looking items I must say!
If you were worried about where you would store your old CDs after you ripped them and where you would put your workout gear, there are two birds offed with one stone with these bad boys!
Via: Craftzine.com blog: HOW TO – Turn Old CDs into Dumbbells
Previous: Make Dieting Easier By Limiting Choices
Next: Bored? Don't Eat, Think.

Leave a Reply
-