I found this postcard from PostSecret this week to be ironic since I was just writing about biking to work.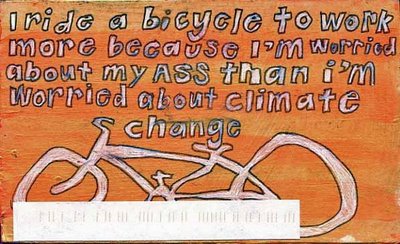 When I rode my bike to work, I did it strictly because of my physical fitness. I never considered the savings in gas money until I realized that I didn't need to fill the tank as often. If you would like to bike to work to lose weight, here are some pointers:
Should you be ashamed that you want to bike to work to lose weight instead of saving the planet? HELL NO! That saving the planet business is just icing on the cake. Here's a little video about all the good reasons to bike to work that have NOTHING to do with the environment.
---
PostSecret's beneficiary is the National Hopeline Network. It is a 24-hour hotline (1 (800) SUICIDE) for anyone who is thinking about suicide or knows someone who is considering it.
Previous: PostSecret: Pizza's Here
Next: Make Dieting Easier By Limiting Choices

One Response to "PostSecret: Bike To Work"
Edene Says:
August 27th, 2008 at 11:26 am

I agree. It's never about the environment.
Leave a Reply
-