The July 17th New England Journal of Medicine has published a report that followed three groups of dieters for two years. They compared low fat, The Mediterranean Diet and Atkins (low carbohydrate). You can see the full results here:
The overall weight changes among the 322 participants at 24 months were:
–2.9 kg for the low-fat group
–4.4 kg for the Mediterranean-diet group
–4.7 kg for the low-carbohydrate group
A graph of the weight loss for each group is here: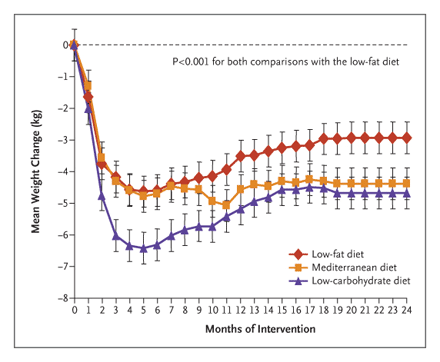 One note about the study is that while the low-fat and Mediterranean diet followers had a restricted caloric intake of 1500 to 1800 calories a day, the low-carbohydrate group were not restricted in their calories.
I find it difficult to maintain a low-carb diet, but I know I feel better when I follow one. Here is a little incentive for me to monitor my sugar and carbohydrate intake.
Previous: Czech Sokol Organization
Next: Which Burns More Calories: Mopping or Slipper Genie?

5 Responses to "Weight Loss with a Low-Carbohydrate Diet Is Proven Greater"
Leave a Reply
-