If you are one of the many people who have bought a Starling Fitness Yearly Journal, then you know that the quote of the month is about unrealistic standards. You can see the quote here:
You can either hold yourself up to the unrealistic standards of others, or ignore them and concentrate on being happy with yourself as you are.

Jeph Jacques, Questionable Content, #352, 05-04-05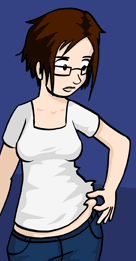 Questionable Content is a soap opera webcomic and I read it EVERY weekday. You can see the episode with that quote here:
I don't know how Jeph understands the minds of women so well, but more power to him. I'm still learning how to be happy with myself as I am, but it's nice to know that I'm not alone.
---
If you would like to order your own Starling Fitness Yearly Journal, you can do so here:
If you order it now, you can choose the month you want it to start and it will last you a year from that date. You won't have to throw away any unused days from the first of the year. You can start fresh now.
Previous: 24 Hour Fitness Treadmills Compatible with Nike+iPod
Next: NakedJen Starts An Exercise Program and Shares A Recipe

Leave a Reply
-